Gate valves are one the most commonly used valve in process pipeline systems. This valve is only used as a fluid flow stopper and starter. The Gate valve consists of a gate-like disc that acts perpendicular to the flow. The middle of the valve is straight, leading to minimum fluctuation and resistance to fluid flow. The gate in these valves is perpendicular to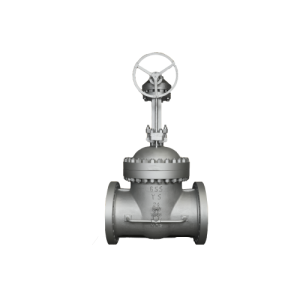 the flow; thus, gate valves are not suitable for flow control applications. In addition to that, these types of valves are not used in Intermittent functional applications (such as repetitive opening and closing of the gate or closing the gate fast to the high-speed flow).
The Gate valves make a barrier against the fluid flow. This valve requires very little space along the pipe axis. There is very little resistance to fluid flow When the valve is fully open. Gate valves are usually installed vertically or horizontally. Gostaresh Shirsazi Tehran Sufa Co. manufactures gate valves in classes 150, 300, 600, 900, 1500, and 2500 in sizes of 2″ to 56″, relying on its technical and engineering knowledge. At first, these valves are 3D designed, and then the mechanical analysis is performed to evaluate the valve's performance in working temperature and pressure. This process aims to optimize the valve design according to customer requirements. At last, the prototype is produced using a 3D printer to achieve maximum dimension precision. The gate valves produced in this company are according to API, BS, ISO, ASME. In addition to that, at all production steps, comprehensive product inspections are done with high precision by certified quality control inspectors.